The "ceramic" functioning layer provides a basis for the laser engraving of our anilox rollers. We use tried-and-tested chromium oxide ceramics (Cr2O3) for this purpose, given their characteristic melting properties, density and – in particular – their suitability for high-energy laser engraving. We place high demands on material quality in this respect.
Going beyond established standards
Anyone can do "standard". We go a step further by providing a corrosion-prevention coating that is also an intermediate substrate. The ceramic polishing process is followed by additional smoothing carried out at a considerably lower speed. Each anilox roller is subjected to further superfine polishing using a diamond-coated abrasive strip. This means that your ceramic roller will have a long and reliable useful life as it delivers outstanding print results.
Although the prevalence of anilox sleeves is on the rise, we continue to use a variety of conventional anilox rollers on flexo printing machines. This depends on the design of your particular equipment.
Our anilox sleeves enable you to achieve visibly improved processing quality, particularly in the context of short print-runs. Fitted to printing presses designed especially for their use, anilox sleeves can provide you with the decisive advantages that have made them today's preferred type of roller.
Our anilox roller sleeves, your profitable advantage :
Our use of a compressible layer ensures the smooth installation and removal of anilox sleeves on your part. We also provide, in addition to optimised ceramic-layer anchoring, an ideal weight ratio for your anilox roller configuration, based on our use of an aluminium body.
CFRP rollers with diagonal carbon-fibre windings also form part of our range of lightweight anilox rollers. 
Replacement Versus Refurbishment
We can give your used anilox rollers a shiny new lease of life. In addition to supplying new print rollers, we can also refurbish your used anilox rollers in-house – regardless of original make.
The right engraving technology for each area of application – we have the ideal anilox roller engraving to hand.
Hexa 60°
Hexa 60° is our tried-and-tested standard anilox engraving, designed to deliver top-quality printing results for both the flexo printing and coating sectors.
Diamond 45°
Diamond 45°, one of our first anilox engraving formats, has now largely been superseded by Hexa 60° technology. We nevertheless continue to recommend it for use in certain special areas of application.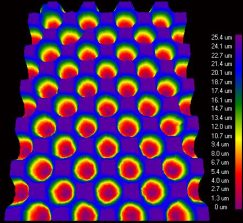 Our Trihelical
Our Trihelical (or cross-hatch) open engraving technology can be used both as a means of extending the standard range of anilox engraving techniques and as a technical alternative. The open structure of its engraved lines provides you with good transfer performance. This engraving technique is particularly recommendable if your work involves large print and coating formats.
HD-ready – full HD
Are you looking for high-resolution print quality? If you are, this anilox engraving technology is probably the right choice for you. Our HD-ready and full-HD engraving techniques both allow you to print in perfect HD quality. Our HD anilox engraving techniques are also ESKO-certified.
H.I.T.
Our H.I.T. anilox engraving gives you an extra degree of white coverage, while offering new aspects of opaque white, paint coating and special colours. Our H.I.T. anilox engraving is a classic Hexa 60° engraving technique, characterised by its optimised cell geometry. Our H.I.T. engraving technique also offers you increased ink-transfer for a lower given quantity. We can particularly recommend this anilox engraving for offset-print coating units and coating machines.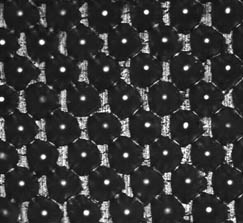 SteppedHex
Our innovative SteppedHex engraving technique, with its unique anilox cell structure, allows you to increase line-count without any loss of volume. You can therefore print with a finer raster, but without having to worry about any significant loss of solid density. You can use this anilox engraving technology with all inking systems.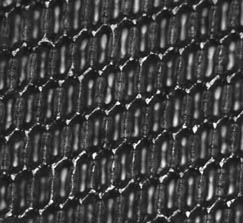 Customised engraving technology
Our customised engraving technology allows us to supply you with tailored anilox roller configurations matched to your particular needs. Thanks to individually created TIFF files, we are able to laser engrave customer-specific designs on your behalf. If your work involves special formats and areas of application, our customised anilox technology is the right choice for you.