The UES tank systems are offered in a modular construction with flexible tank volumes from 4 kg – 105 kg and selectable hose connections from 2 to 16. The electronic control with LED display, 4-line display or large-surface touch screen with multi-lingual display, enables simple operation of the hot glue system.
A wide range of options are available for optimum integration – from the removable display through to the additional pump. Integrated signal and control contacts enable communication with the central production control. The tank systems are connection-compatible with systems from all leading suppliers.
Perfect Melt (4-30 litre tank volume) The optimum performance of our new perfectMelt is the perfect result of 20 years of experience in hotmelt technology, ….
MaxMelt (30-105 kg tank volume) MaxMelt large scale plants are ideal to process large amounts of glue. Due to the precise controler and high-capacity drive, …
Block Melter PressMelt PUR adhesives are used for applications with high demands on the stability and durability of adhesion.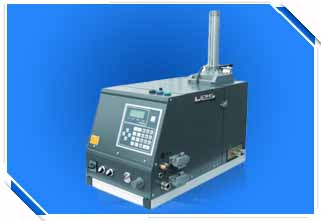 Automatic Granulate FeederPowerFill The automatic granules feeder "PowerFill" replaces the tank lid of the hotmelt system.