Despite the wide usage of ceramic anilox rollers, the chrome roller continues to be the preferred choice for certain applications.
Diamond engraving for your anilox roller
The "chrome" functioning layer provides a basis for the electronic engraving of our anilox rollers. The engraving of chrome rollers is carried out on a special copper-coated surface. In this process, each cell is individually cut by a diamond-tipped tool.
Our chrome rollers - your advantage
Electronic anilox engraving provides you, in comparison to other procedures, with absolute uniformity in terms of cell geometry and optimum pick-up volume. We can also tailor this procedure to meet your needs. It offers clear benefits, particularly in the field of flexo printing. It also allows us to handle finer anilox engravings and high ink-transfer volumes on your behalf. We are now further enhancing our chrome-roller range with the renowned NSC coating process. This allows us to take targeted advantage of the strengths of this anilox engraving method for the purposes of extremely high-volume and coarse engravings.
Replacement Versus Refurbishment
We can give your used anilox rollers a shiny new lease of life. In addition to supplying new print rollers, we can also refurbish your used anilox rollers in-house – regardless of original make. This saves you the cost of buying from new, while allowing you to deliver top-quality printing results once more.
The right engraving technology for each area of application – we have the ideal anilox roller engraving to hand.
Hexa 60°
Hexa 60° is our tried-and-tested standard anilox engraving, designed to deliver top-quality printing results for both the flexo printing and coating sectors.
Diamond 45°
Diamond 45°, one of our first engraving formats, has now largely been superseded by Hexa 60° technology. We nevertheless continue to recommend it for use in certain special areas of application.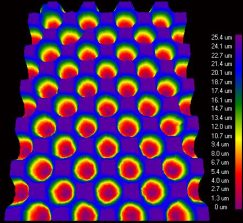 tri-helical
Our tri-helical (or cross-hatch) open engraving technology can be used both as a means of extending the standard range of engraving techniques and as a technical alternative. The open structure of its engraved lines provides you with good transfer performance. This engraving technique is particularly recommendable if your work involves large print and coating formats.